IHP Capital Partners Moves Forward on Master-Planned Community of Braverde in Menifee, California
With plans for more than 500 homes on 170 acres, grading is now underway and master developer IHP will soon present region's top homebuilders with land purchase opportunities at the highly anticipated community in one of California's fastest growing cities.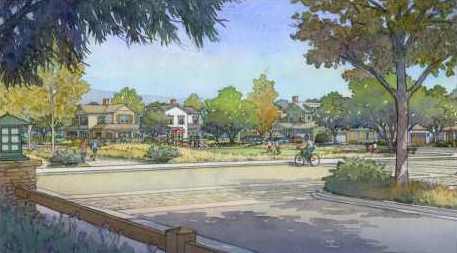 July 01, 2020 12:50 PM Eastern Daylight Time
MENIFEE, Calif.–(BUSINESS WIRE)–IHP Capital Partners today announced that the development of Braverde, a thoughtfully designed 170-acre master-planned residential community in Menifee, Calif., is progressing on schedule with overall grading operations and site improvements underway. With plans for 511 homes and a wealth of parks, trails and recreational amenities, Braverde will begin land sales this summer 2020 and is expected to open for home sales in summer 2021.
Master Developer IHP worked with its entitlement consultant Global Investment and Development; development consultant Bristol Land Company; general contractor California West Communities and a team of designers to create a progressive land plan for the highly anticipated community in the scenic location in Menifee, one of the fastest growing cities in California. The name Braverde is inspired by the brave servicemen and veterans that call this area home and the "verde" or green natural beauty that surrounds it. The community will connect neighborhoods and residents to nature through a series of paseos and pocket parks highlighted by the 15-acre Veterans Park. This new park will serve as the recreational heart of Braverde with a collection of ballparks, play areas, tot lots, trails and event lawns to bring families and friends together.
Adding to the allure of Braverde, Liberty High School, a new 52-acre state-of-the-art campus right next door to the community, is scheduled to open in August of 2021. Serving the children of Braverde will be the Menifee Union School District—the second highest ranked district in all of Riverside County—until 8th grade, while Liberty High within the Perris Union High School District will educate the high schoolers.
Residents will also enjoy close proximity to the region's premier retail center at the Menifee Countryside Marketplace. Outdoor recreation is just a short drive away with several reserves and lakes in the area including Menifee Lakes, Lake Elsinore and Diamond Valley Lake.
The 511 residences at Braverde will include a range of architectural styles with plans from 1,800 to 3,500 square feet on lot sizes ranging from 5,000 to 7,000 square feet. The homes will be featured in four distinct neighborhoods with prices expected to range from the high $300,000s to the low $500,000s.
"Braverde is going to be a very special place, a community that we believe will appeal to buyers who want to purchase a new home at an incredible value with plenty of space to spread their wings," said Blaine Peterson, Managing Director for IHP Capital Partners. "With an abundance of natural beauty, attainable living and array of amenities both within the community and nearby, Braverde is ideal for growing families. With that in mind, we expect to attract some of the most respected homebuilders to help us carry out the vision for Braverde."
IHP will soon announce opportunities for homebuilders in the region to purchase the land for the four neighborhoods at Braverde. Land Advisors will lead the marketing and sales of the land offering.
"Braverde will be a highly attractive master-planned community for homebuyers because of its access to the 15-acre Veterans Park, the adjacency to upcoming Liberty High School that is within the brand new Menifee Unified School District and the ability of homebuyers to buy a new home at a low cost due to current low interest rates and a low HOA," said Brian Carricaburu, Listing Broker at Land Advisors Organization. "We expect high homebuilder demand for these reasons and because the nearby master-planned communities are projected to sell-out by the Braverde Grand Opening date of Memorial Day in 2021."
An interest list for Braverde is now forming at www.Braverde.com.
June 11, 2020
IHP Capital Partners and Intracorp Announce Joint Venture to Develop In-Fill Community of Townhomes in Newport Beach
Read Full Story >